While other employee agencies place a high priority on "skills" of human resources, we focus more on "strong-minded people"【A & B areas of the chart below】 and that is where we look for ideal human resources. "We believe that the strength of "inspiration" and "humanity" improve productivity, and who has these strength can be a high-value human resources and perform efficiently in any companies for a long time.
We think not only the people who are highly motivated and well-experienced【A area】, but the people who are not yet fully-experienced but motivated to learn new skills 【B area】have great potentials and we should pay more attention to the human resources. The companies, which have faced difficulty hiring new work force, are finding it reasonable by switching a skill-based recruitment to potential recruitment trains potential candidates to be efficient for own company.
But "How can we find the best minds? " We are particular about the way. In order to attract unique and wide-ranged undiscovered human resources, We use relationship-based way like referrals from former clients, Social Network, and by word of mouth. We choose not to use recruiting media everybody uses, or form into an alliance with other human resource business.
We are one and only employeement agent that「数を集めるのではなく、いい人材だけが集まる仕組みをつくる」。ハリウッドエージェントジャパンはそのこだわりを追求する唯一のエージェントなのです。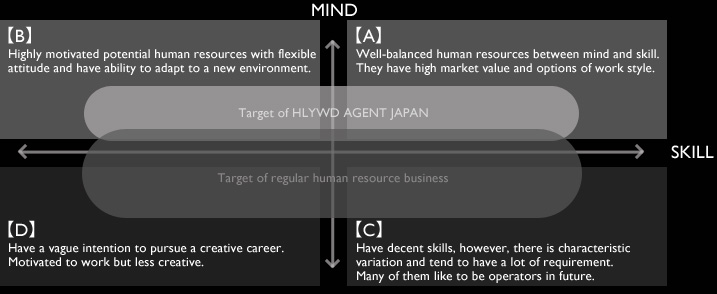 We take human resource business as a solution between companies and creators. We have established a differentiated position among human resource business by matching needs with our ideal approach.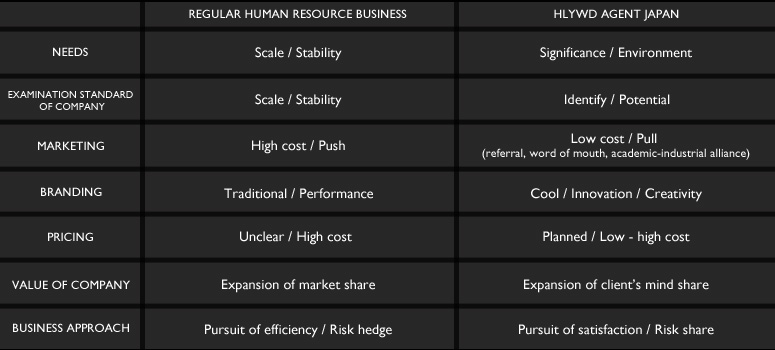 We give lectures and organize events to people who want to pursue creative careers with educational institutes, which offer creative learning programs in IT field. From the perspective of an employee agent, we would like to pass on the needs of creative industry, the value of work and fascination to support people who don't have experience in this field.
|To educational institutes|
We would like to know the purpose and the audiences of the lecture or event in advance and schedule the day. (Free of cost) However, please note that it is not to be aimed to do direct assistance (interview, fixing up a job) or have students to register on our services.
|Our Partnar Educational Institutes|